Instructors on CN have the option to set up Balanced Assessment on Assignment Submission activities in their Pathway LMS courses. If a course has multiple instructors (or other roles that are given the permission to perform grading such as a Teaching Assistant and Field Expert), Balanced Assessment can be enabled to assist in evenly distributing grading responsibilities among the chosen graders.
How it works:
By default on Assignment Submission activities, all assessors are notified of all assignment submissions.
When Balanced Assessment is turned on, the system evenly distributes new submission notifications among the assessors. For instance, Assessor A will be notified to review Submission One, Assessor B will be notified to review Submission Two, Assessor C will be notified to review Submission Three, etc.
All assessors, including course instructors, are still able to grade any submission from the course. This setting only changes how notification emails are distributed and labels assignees in CN DropBox.
Enabling Balanced Assessment:
When creating an Assignment Submission activity in a Pathway course, Balanced Assessment is available to the following two submission types:
File/Multimedia,
Google Drive Assignment
It is available to the following three completion settings:
As soon as they submit (will be graded)
When submission is approved (complete-incomplete)
When they receive a passing score (grading required)
If you select any of the above submission types and completion settings, and are in a course with multiple instructor-level accounts (i.e., instructor, teaching assistant, field expert, instrucitonal designer), you will see the option to enable Balanced Assessment.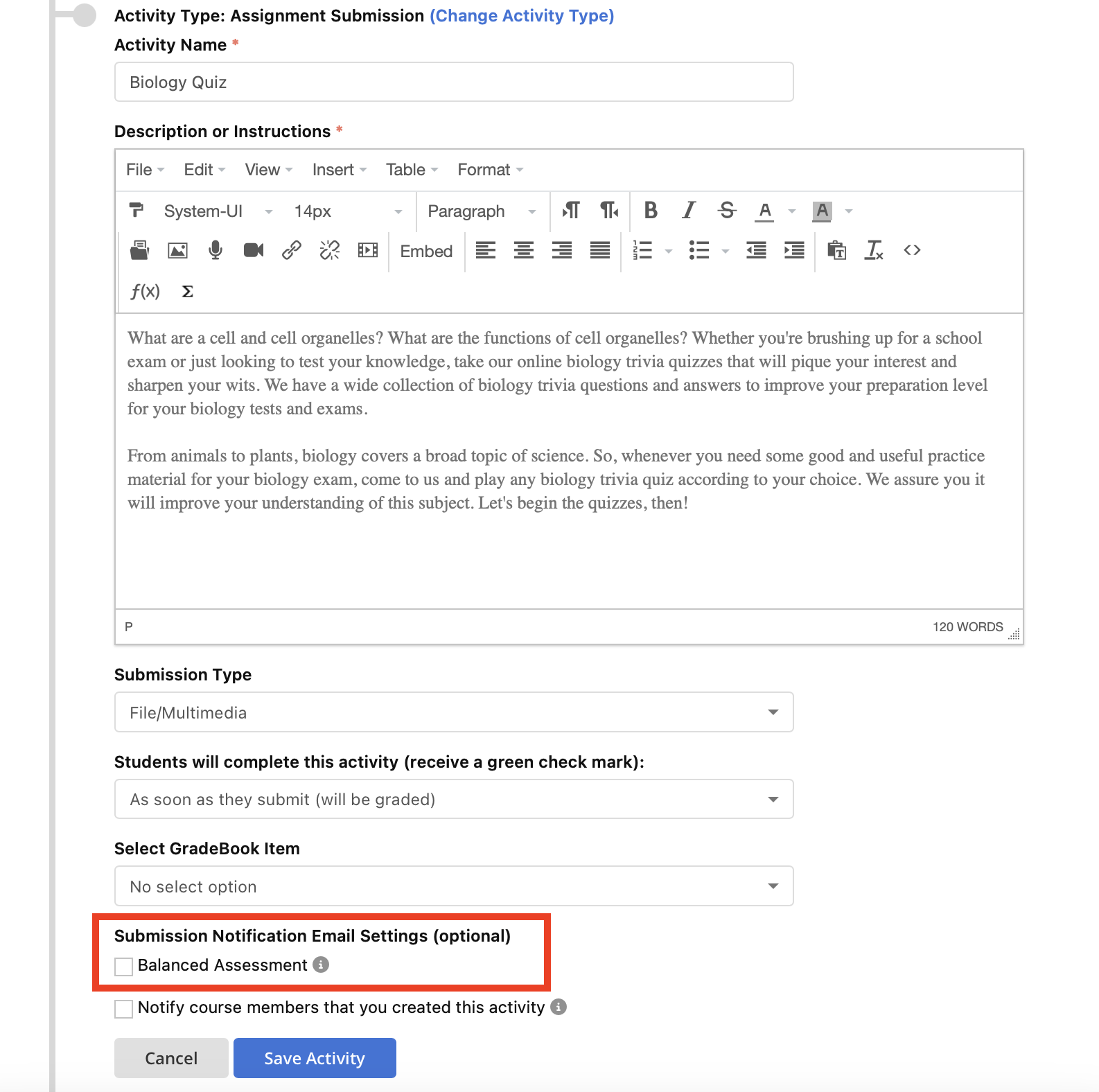 Once the option checked, you will be asked to choose assessors for this activity. They will be the users whom the submission notifications will be distributed amongst.

Receiving submission notification:
Once a student makes an assignment submission, one of the assessors will receive a notification email like the one below. Other assessors will take turns receiving such notification about subsequent submissions.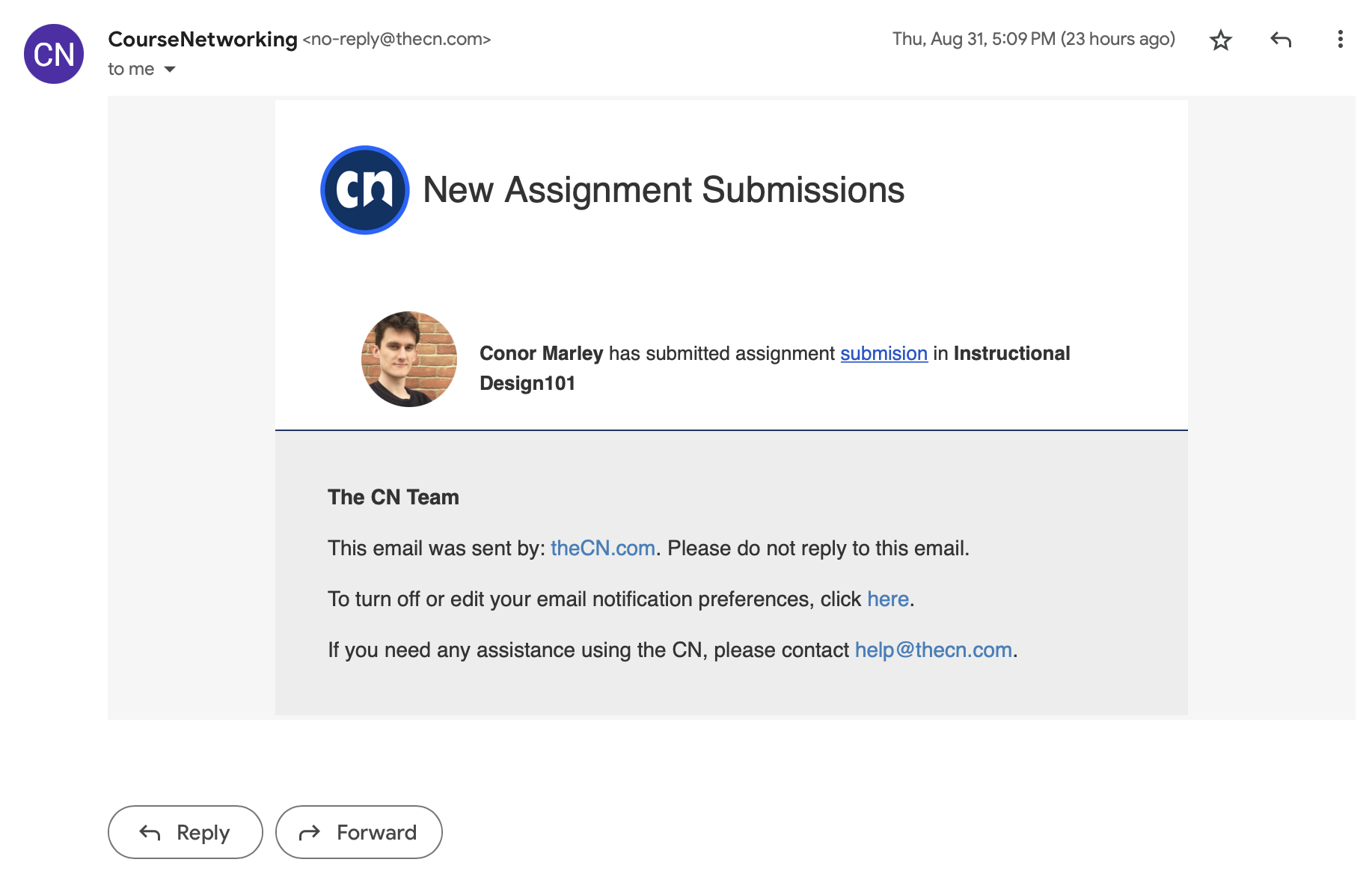 Clicking on the link in the email will bring the assessor to one of two interfaces below, depending on the assignment's completion setting.
If the assignment is linked to the course GradeBook, you will be taken to the CN DropBox to grade. The submissions are tagged with their assigned assessors: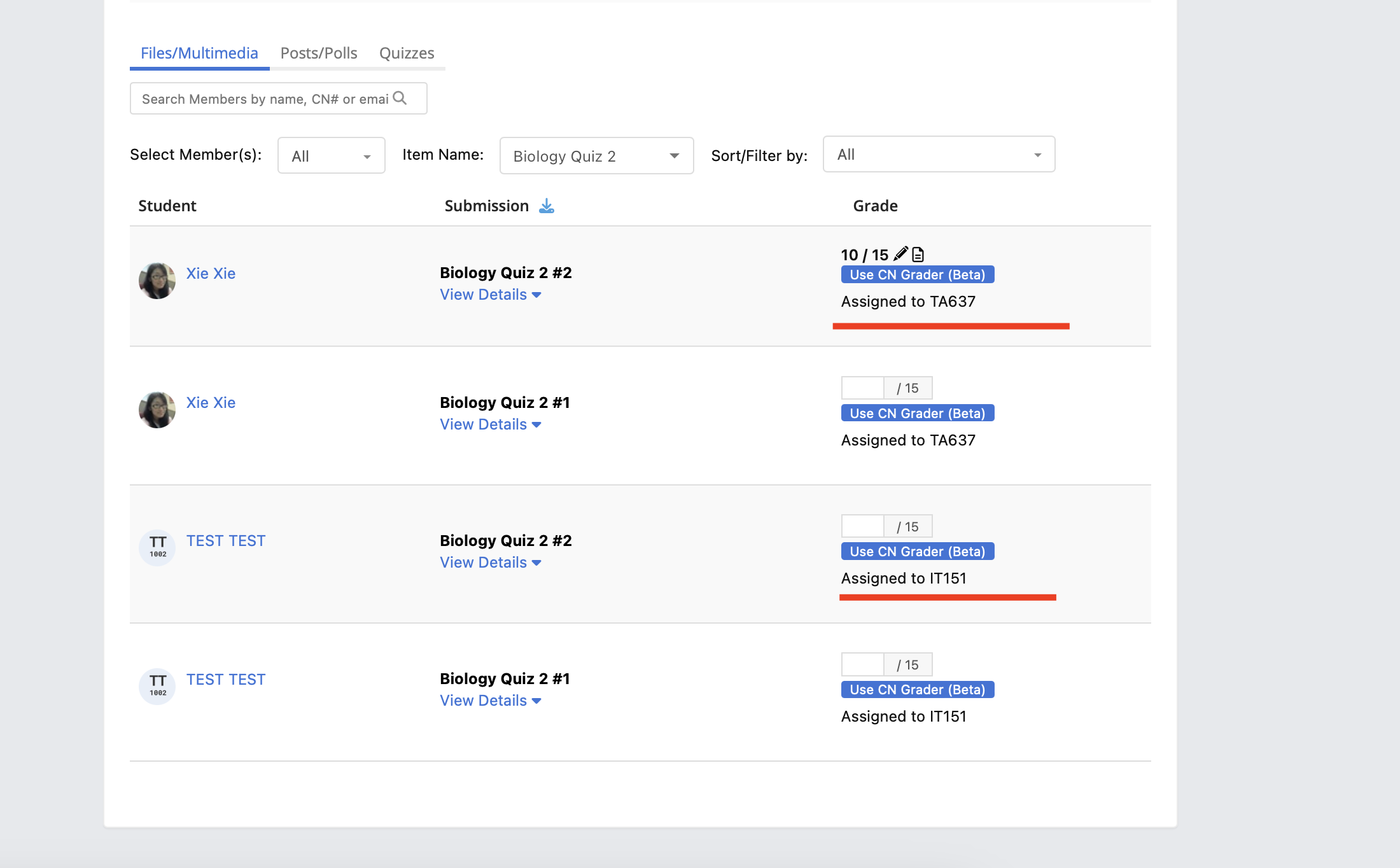 If the assignment is a complete-incomplete type, the assessment popup will appear with details of which submissions are assigned to which assessors.