Introduce Rumi, your Personal Assistant on CN
In May 2021, the Rumi beta was released to all CN users. After two years, in May 2023, the CN team implemented major UI/UX enhancements to Rumi based on user feedback and removed its beta status.
Rumi is a personal assistant that uses AI (Artificial Intelligence) and machine learning to enhance user experience. The core services of Rumi include announcements, recommendations, and tips. CN is one of the first LMS (Learning Management System) and ePortfolio platforms that offer AI-based personal assistance to learners and instructors.
This article will give you an overview of Rumi--its key features and how to navigate through these features.
How to Access Rumi
From the Rumi Dropdown
No matter which page you are on (Home, ePortfolio, course, Network), the Rumi icon is always located on the site navigation bar. You can also click it to access its various services.
The first time you use Rumi, you only see "About Rumi" and Rumi "Settings".

Click "About Rumi" to read an introduction to Rumi. After that, more services will become available on the dropdown. You may click each to access the corresponding service. New announcement messages, tips, quote completion updates, and notifications will also automatically pop open from the top of the page. Please read the details of each service below.

From Home Feed
Rumi recommendations (e.g., connections, communities, jobs) are presented as posts on user Home feed. When scrolling down your Home page, you should find them among other posts. A thumbs-up feedback will increase the frequency of a recommendation, and a thumb-down will do the opposite.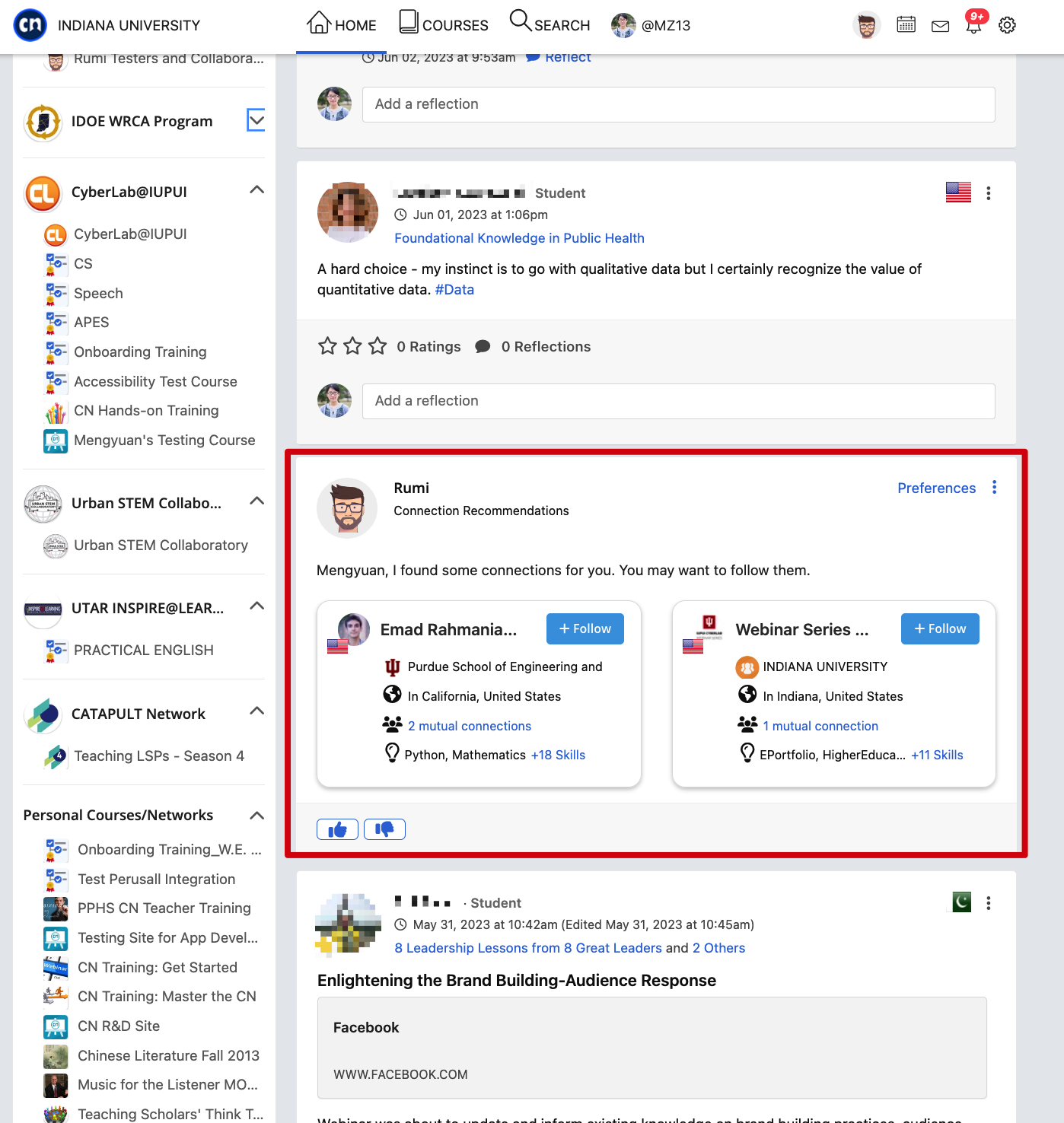 Rumi Services
As of today, Rumi offers the following services. More services will be added as we continue to develop the AI engine. Please note that you may not have access to some of the services if your institution has disabled them.
Announcement
This service sends out announcements created by both CN Admin and institution admins. When there is a new announcement available, it automatically pops up, taking a higher priority over other services. Announcements labeled "Important" by admins show up first to make sure they will not be missed.

When there are multiple announcements, the more important or not viewed items show up first. Users can use the Next and Previous buttons to navigate through these announcements.

Notifications
Rumi also notifies users about updates related to their ePortfolio, such as new visitors, endorsements, badges, certificates, recommendations, etc. You may click the view detail button to find out more about an update. Below is an example of receiving a new visitor and endorsement.

Tips
As a personal assistant, Rumi gives learning and teaching suggestions to each CN user based on their profile, behaviors, and performance on the platform. These tips help learners to have better learning experiences and outcomes, and help instructors to teach more effectively. Based on user feedback, Rumi will provide more targeted tips to each user.
Rumi tips first pop up as a mini massage. If you are interested, click "Read More" to dive into the detail.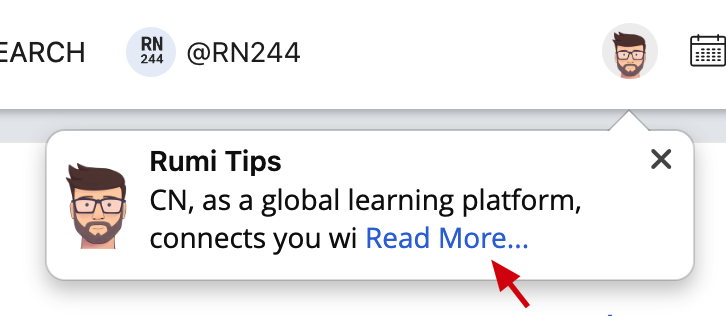 Users may use the Previous and Next Tips to go through tips. The "I Already Know" link allows you to give feedback to Rumi. Once you report already know about a tip, you will no longer see that tip.

As you make progress in your courses, Networks, and ePortfolio, new tips will be presented to you.
Quote Competition
This is a feature for fun. It first pops up as a mini massage. If you would like to take a break and play this game, click "Read More".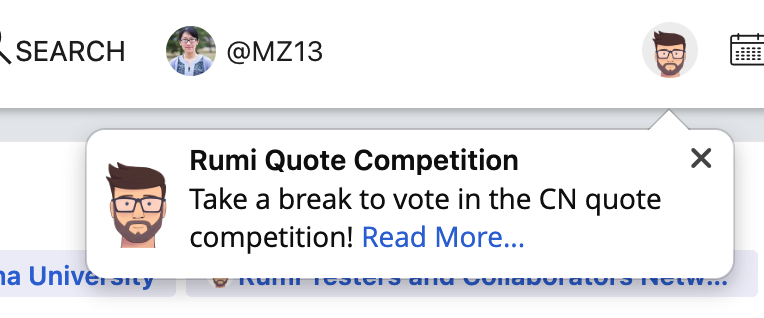 Rumi has collected taglines from users' ePortfolios. These taglines are presented in pairs for you to compare and select the one you like better (see #1 in the second screenshot below). You may skip a pair (see #2). Click "View Leaderboard" (see #3) to view which quotes are leading the competition.

Community Recommendations
Through this service, Rumi recommends communities on CN to you. Six communities are recommended on each post.
Simply click the skill tags that you are interested in. Your selected tags will turn blue and they will be automatically added to the top of your CN Home feed.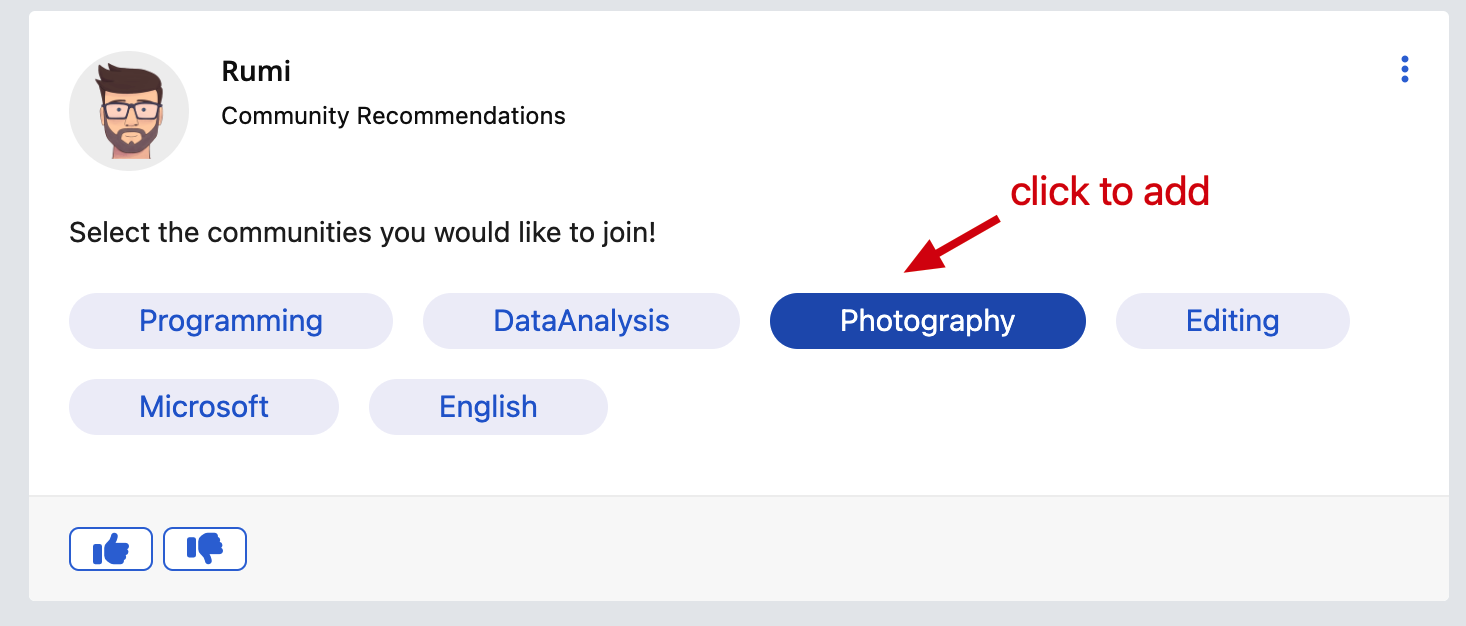 From the top of your Home feed, select an added community to view members, conversations (posts and reflections), and credential opportunities from that community. You can also post to that community.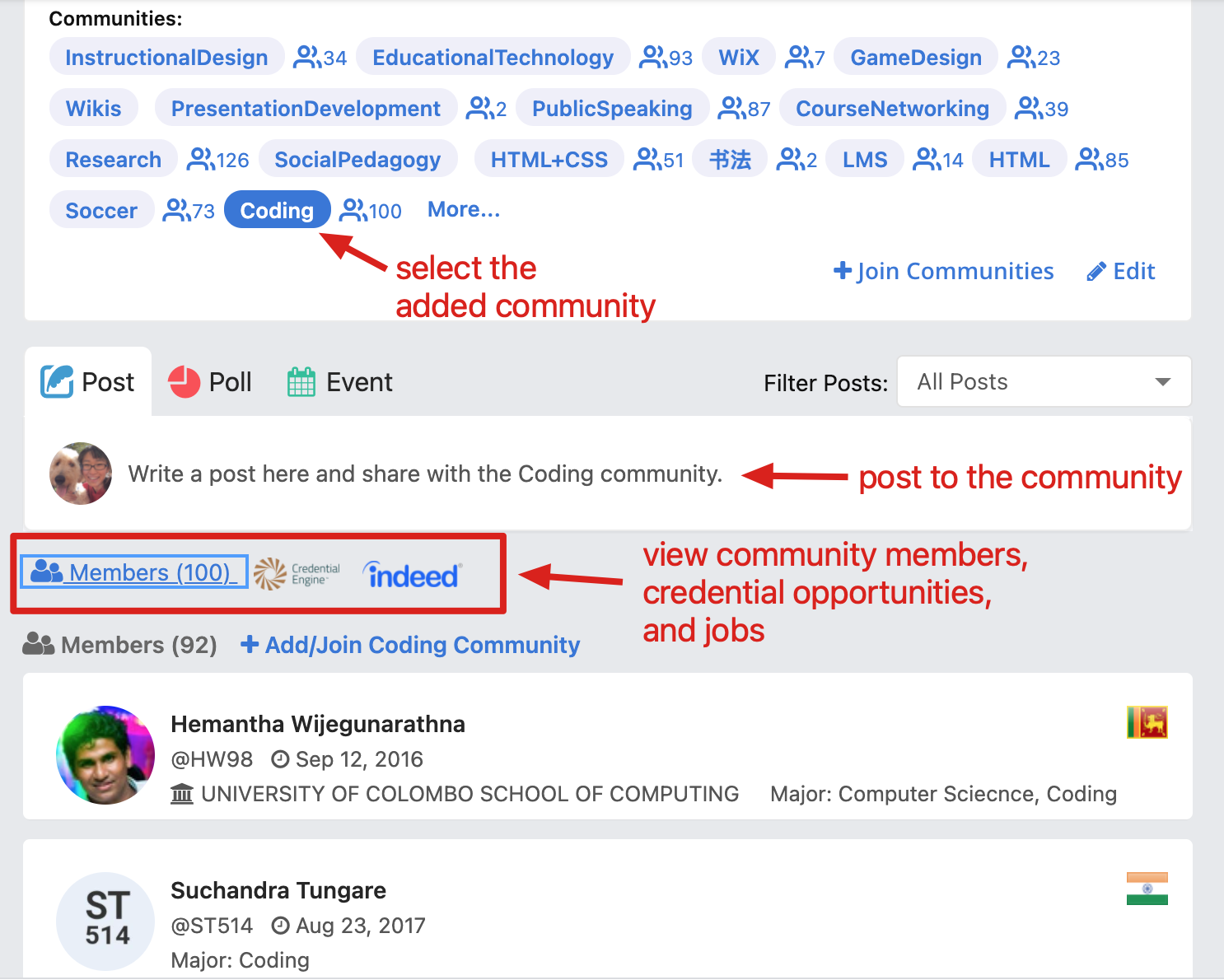 Connection Recommendations
Rumi also recommends other CN users who share similar skills and academic interests with you. You will encounter posts like the one below on your Home feed. Click "+Follow" if you would like to network with a user. You may also click their name to view their profile/ePortfolio and decide whether to follow them on that page.
The "Preferences" link in the upper-right corner allows you to define the recommendation criteria (i.e., skills, location, school, role). Rumi will then recommend users following your preferences.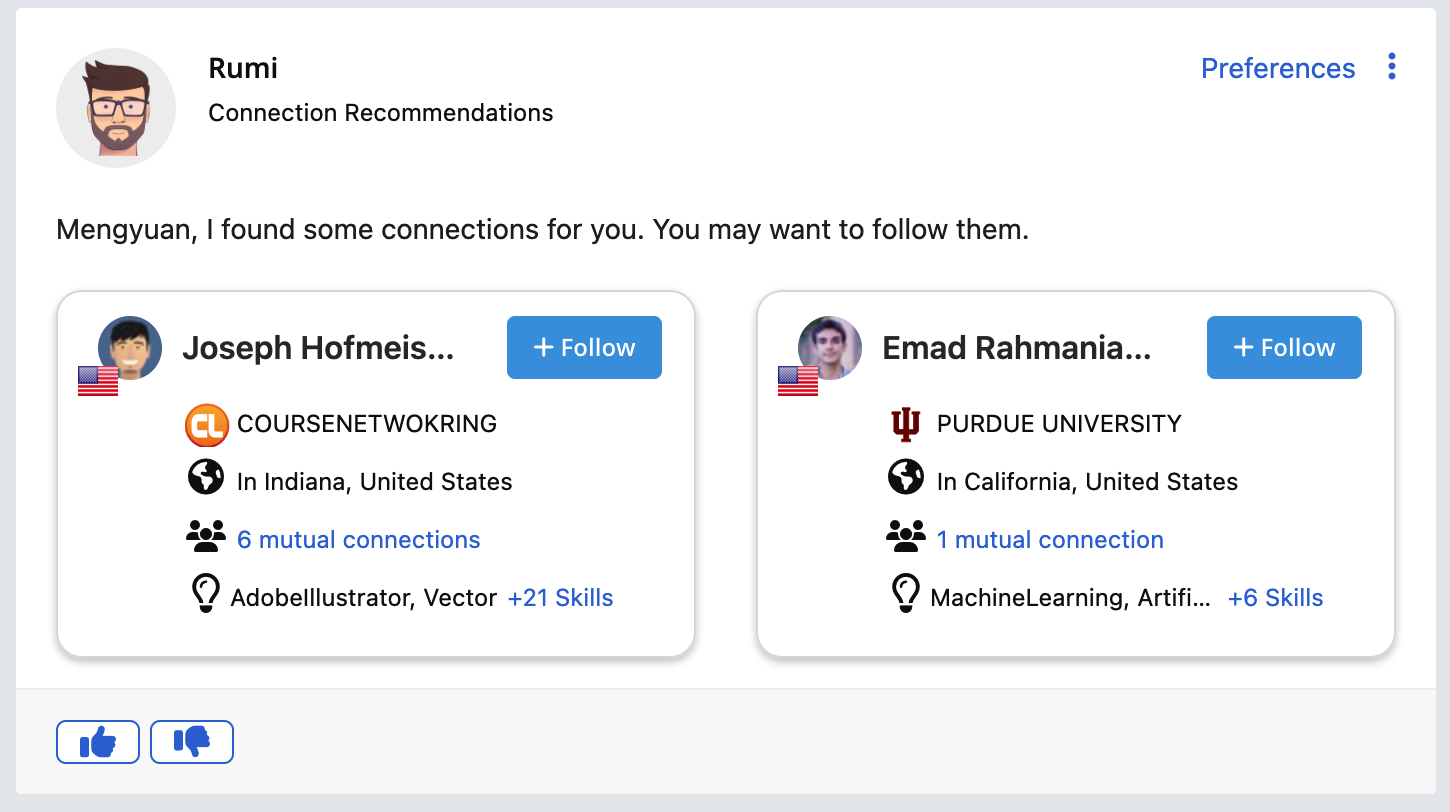 Job Recommendations
Rumi recommends job opportunities based on a user's interested job title and location. When you first encounter this service on your Home feed, you see the form below. You are expected to verify the job title of your interest and location. These two fields are pre-filled with information from your profile/ePortfolio. You may modify the inputs before clicking "Continue".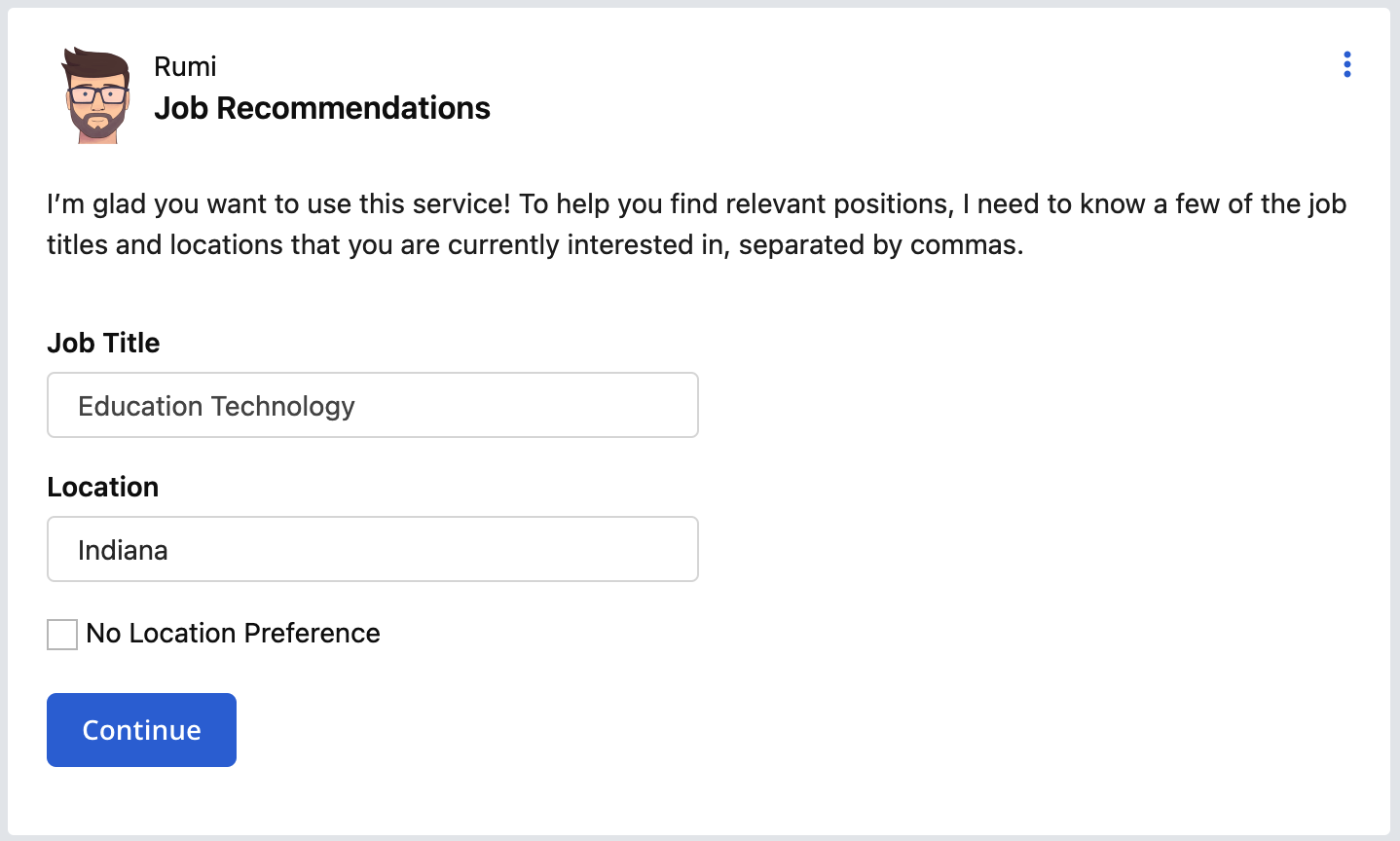 Rumi will then ask you to select a popular job platform to view recommended jobs.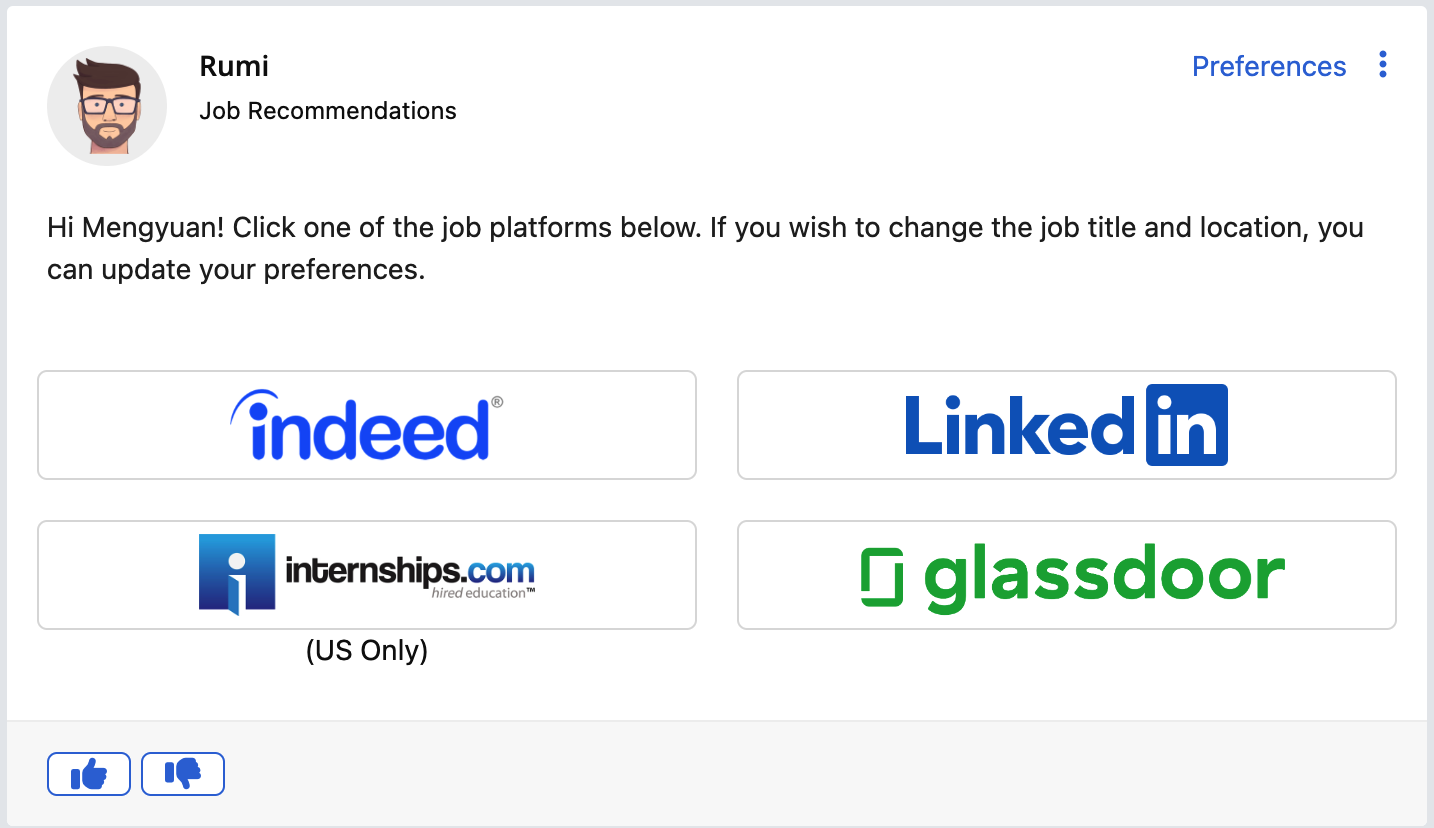 Here is an example of selecting Internships.com in the previous step. You will be taken to the job platform to view job openings that match your preferences.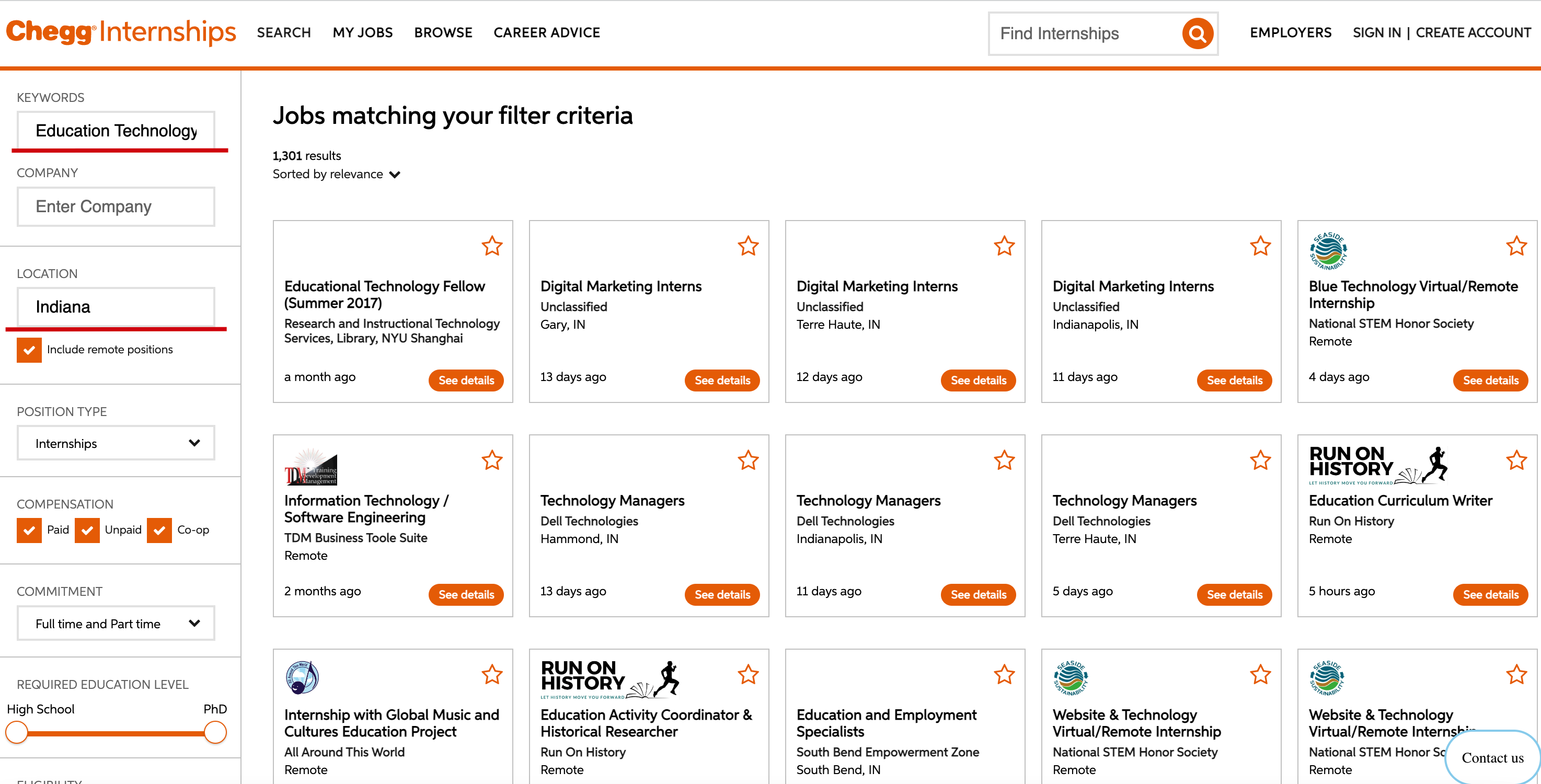 Rumi Settings
Rumi Settings can be accessed at the bottom of the Rumi dropdown.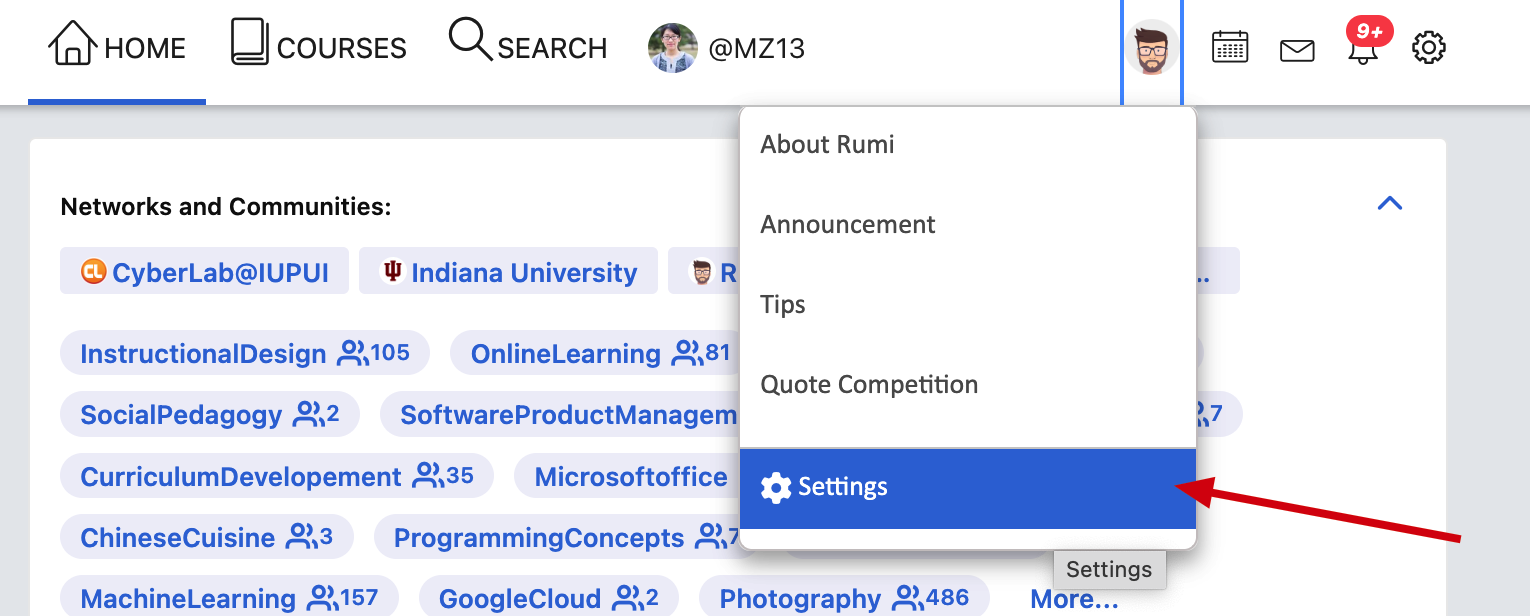 You may disable or enable specific services.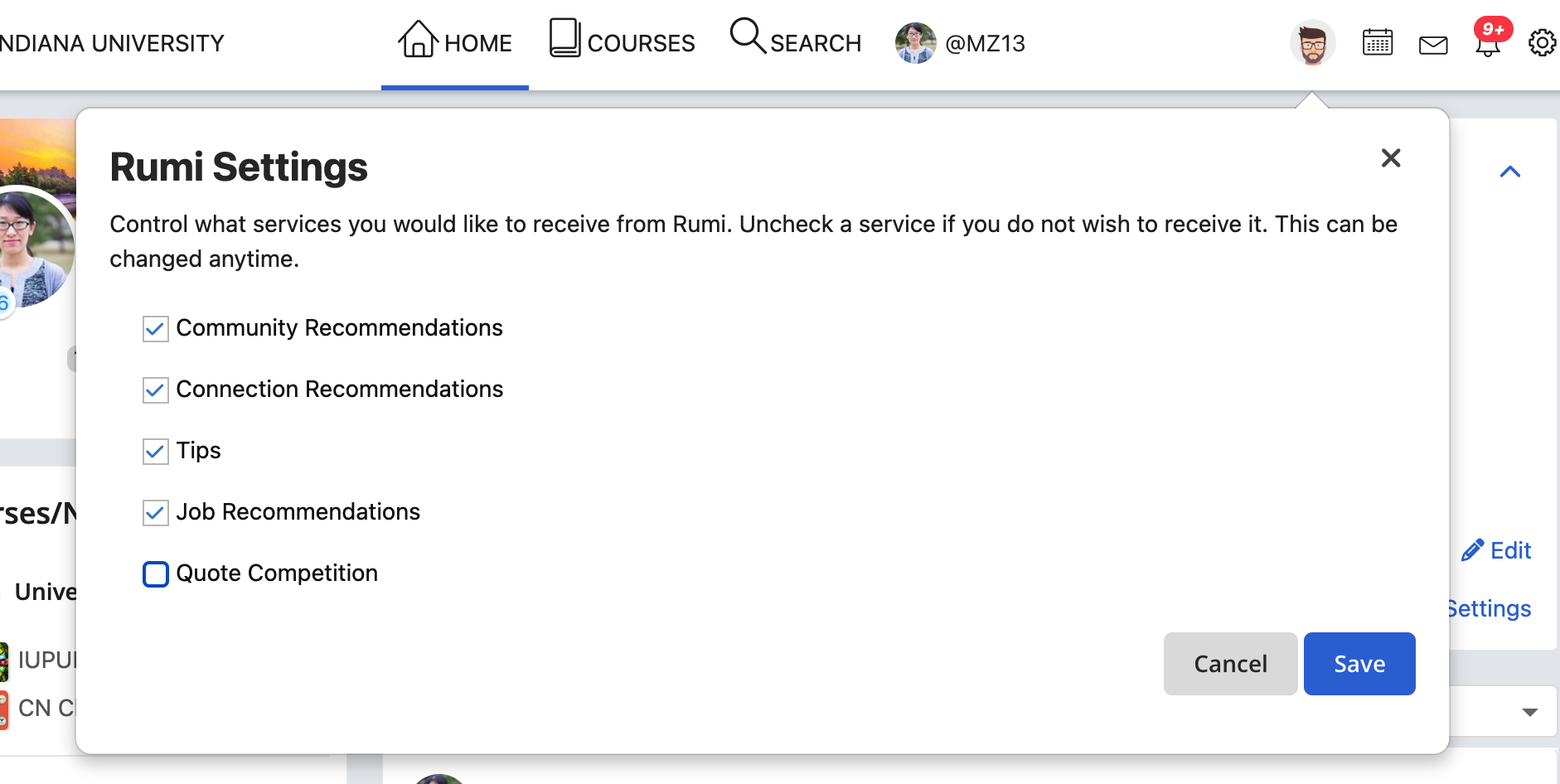 Please note that a Rumi recommendation service can be disabled directly on the post, but it has to be re-enabled from Rumi Settings.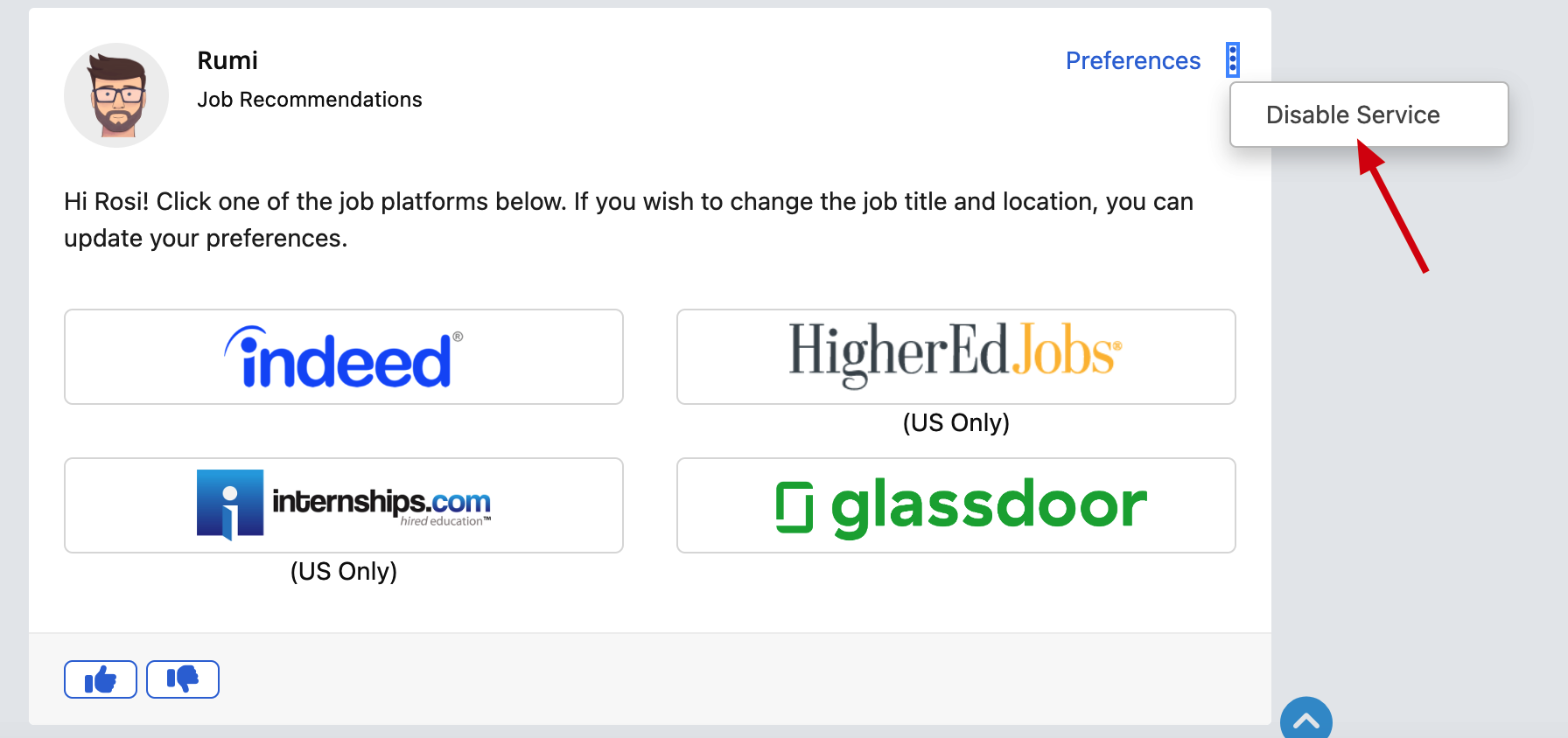 If you have any questions or suggestions about Rumi, please email us at help@thecn.com.