Institution Admins Create Institutional Courses via CN Channel
Institutional courses should be created by institution admins from CN Channel. Although instructors may create personal courses first, then request institution admins to convert them into institutional courses, we do not recommend this approach because it will waste instructors' personal course quota. Starting from July 14, 2020, each CN user is only allowed to create two free personal courses--one Classic course and one Pathway course.
In order to create new institutional courses, institution admins need to access their CN channel, go to "Course Management", then use either the simple form to manually create courses (see number 1 in the screenshot below) or CSV Import Courses (see number 2 in the screenshot below).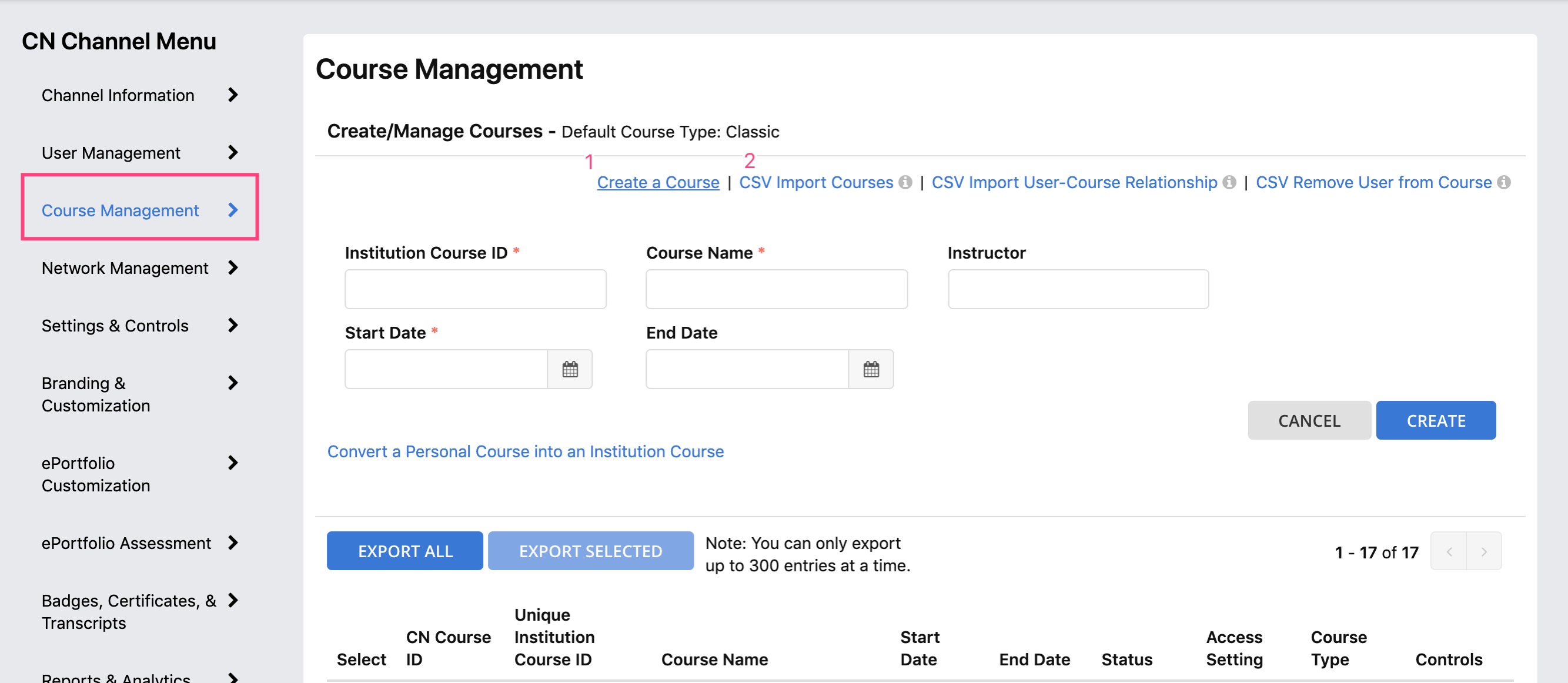 If to import courses through a CSV file upload, the required data is as follows (in order): Institution Course ID, Course Name, Course Start Date, Course End Date. Here is an example:

Manage Course Types
After the new institutional courses are created, you can find them at the top of the course list on the second half of the Course Management page. There is a column that tells you the course type of each course, Classic or Pathway.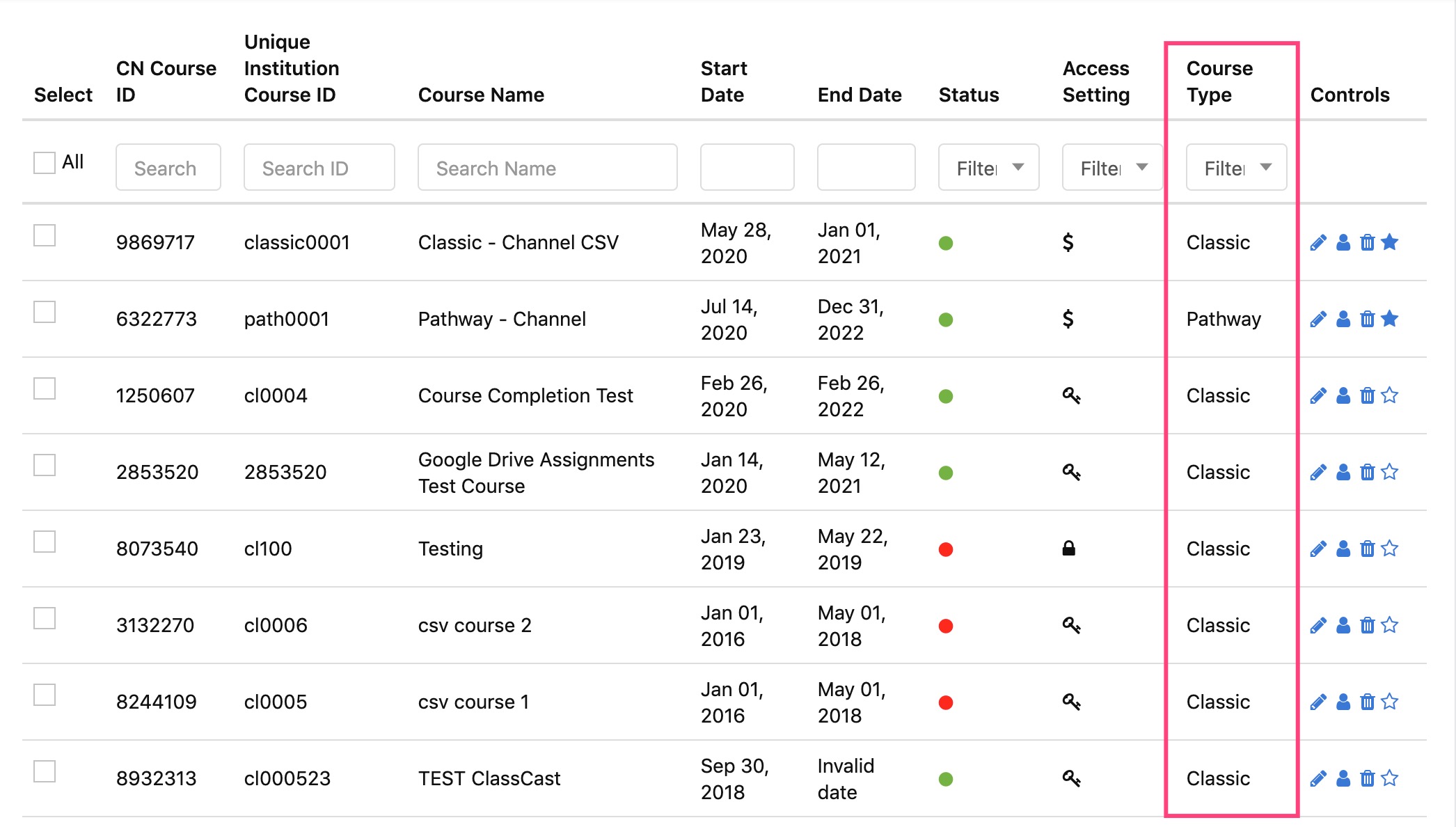 Your CN Channel is given a default course type by the CN Team. The default course type is either Classic or Pathway. This means that after new institutional courses are created, they are of that default course type. Most of the CN Channels created before July 14, 2020 have Classic as the default course type. If your institution would like to change it to Pathway, please contact the CN Team.
Regardless of the default course type, CN Channel admins are given the control to change course types for each institutional course. To do this, you just need to click the edit course pencil icon on the course list.

Then at the bottom of the Edit Course Information pop-up window, you can switch the course types. Please note that you want to set a course to the right type early on because if the course instructor has already developed instructional content using the Task tool or the Course Pathway tool, switching course types will cause the content to be lost.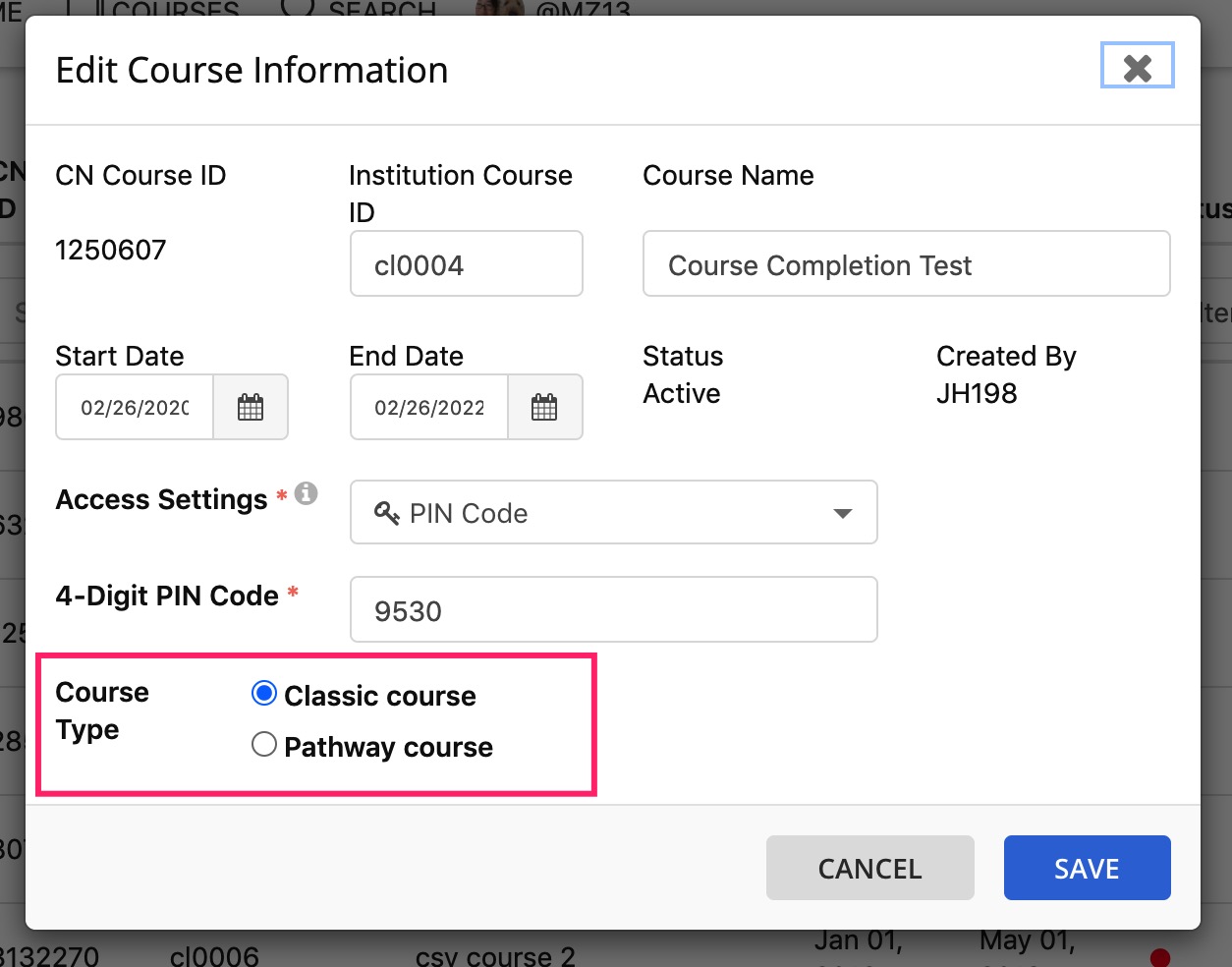 Note: CN institutional courses are given a randomly assigned 4-Digit PIN Code as the default course access setting upon creation. Institution admins can modify the PIN or course access settings from the window above. Course instructors can also make this change on their own directly within their course, through Basic Course Settings.
If you have any questions about creating institutional courses, please contact the CN Helpdesk at help@thecn.com.