From CN Channel>>Settings&Controls>>Course Roles and Permissions, institution admins can get a comprehensive view of all course user roles and their permissions. They can also edit several settings. Some key points to keep in mind:
The roles and permissions apply to all of the Channel courses, including both Classic courses and Pathway courses.
The green check mark indicates having permission, whereas the red X indicates not having permission.
CN Channel admins can modify the several settings that appear as a dropdown. Please note, a change will immediately apply to all Channel courses.
By default, Teaching Assistant, Instructional Designer, and Field Expert can edit course settings and tasks/activities. These permissions can be disabled by turning the corresponding checkbox to X.
By default, Teaching Assistant, Instructional Designer, and Field Expert do not have permission to grade student assignments and quiz submissions. In other words, these roles do not have access to course GradeBook and DropBox. Course instructors and Channel admins may give Individual users in these roles access to all or selected GradeBook items. From the table below, CN admins may turn the X to checkbox to grant full GradeBook and DropBox access to these roles -- note that after this change, instructors will not be able to take the permission away from individual users.
By default, Observer can submit assignments and take quizzes (but does not appear in GradeBook). If to prevent this role from submitting assignments and taking quizzes, CN admins need to turn the checkbox to X.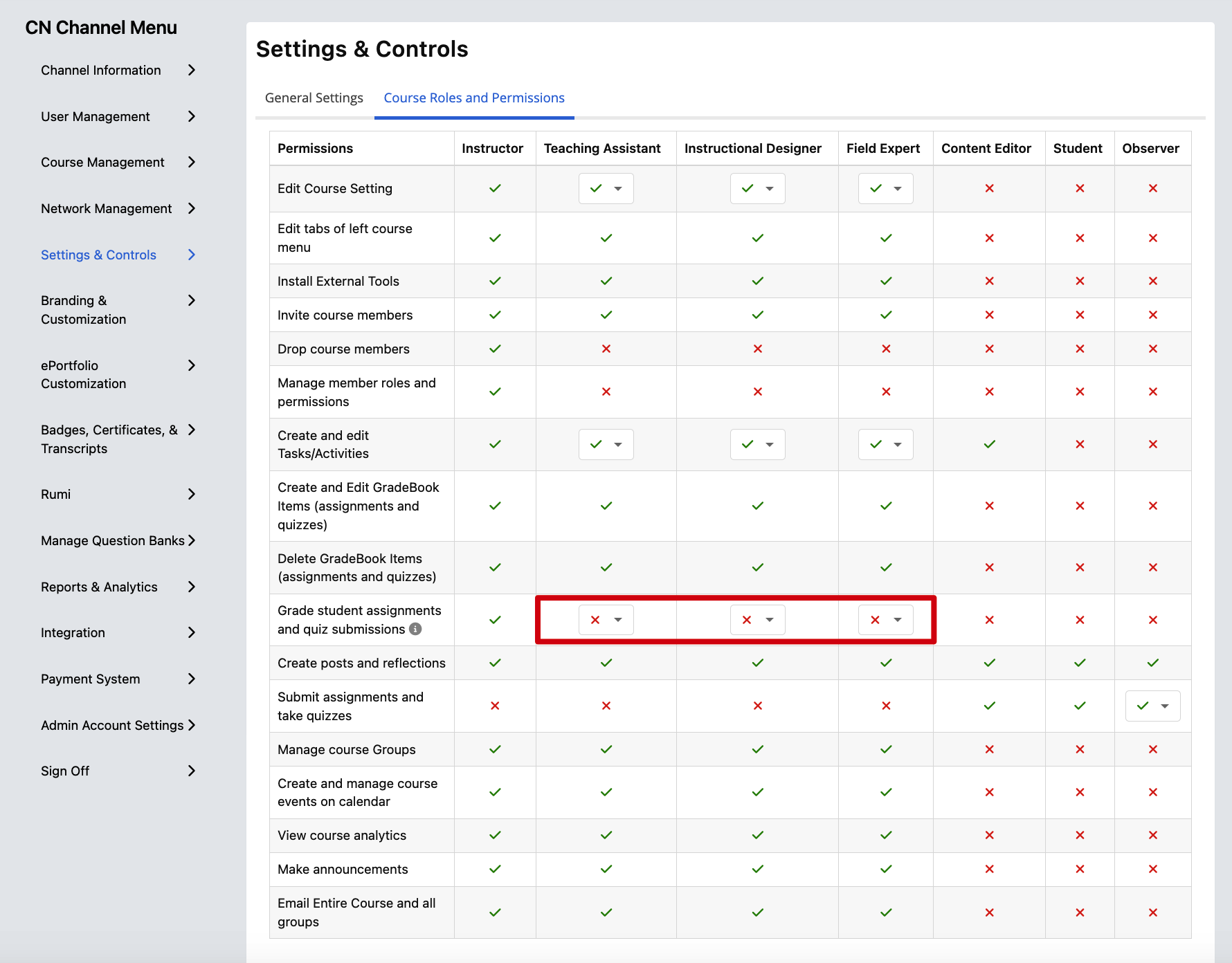 If you have any questions or suggestions for this feature, feel free to reach out to the CN team at help@thecn.com.