How to add Anar Seeds to the Canvas Gradebook
Step 1: Access CN Post from your Canvas course
Click on the CN Post tab on the left-hand menu
Step 2: Fill out Anar Seed Settings
One CN Post opens, click on the "Anar Seeds Settings" link on the left-hand menu in CN Post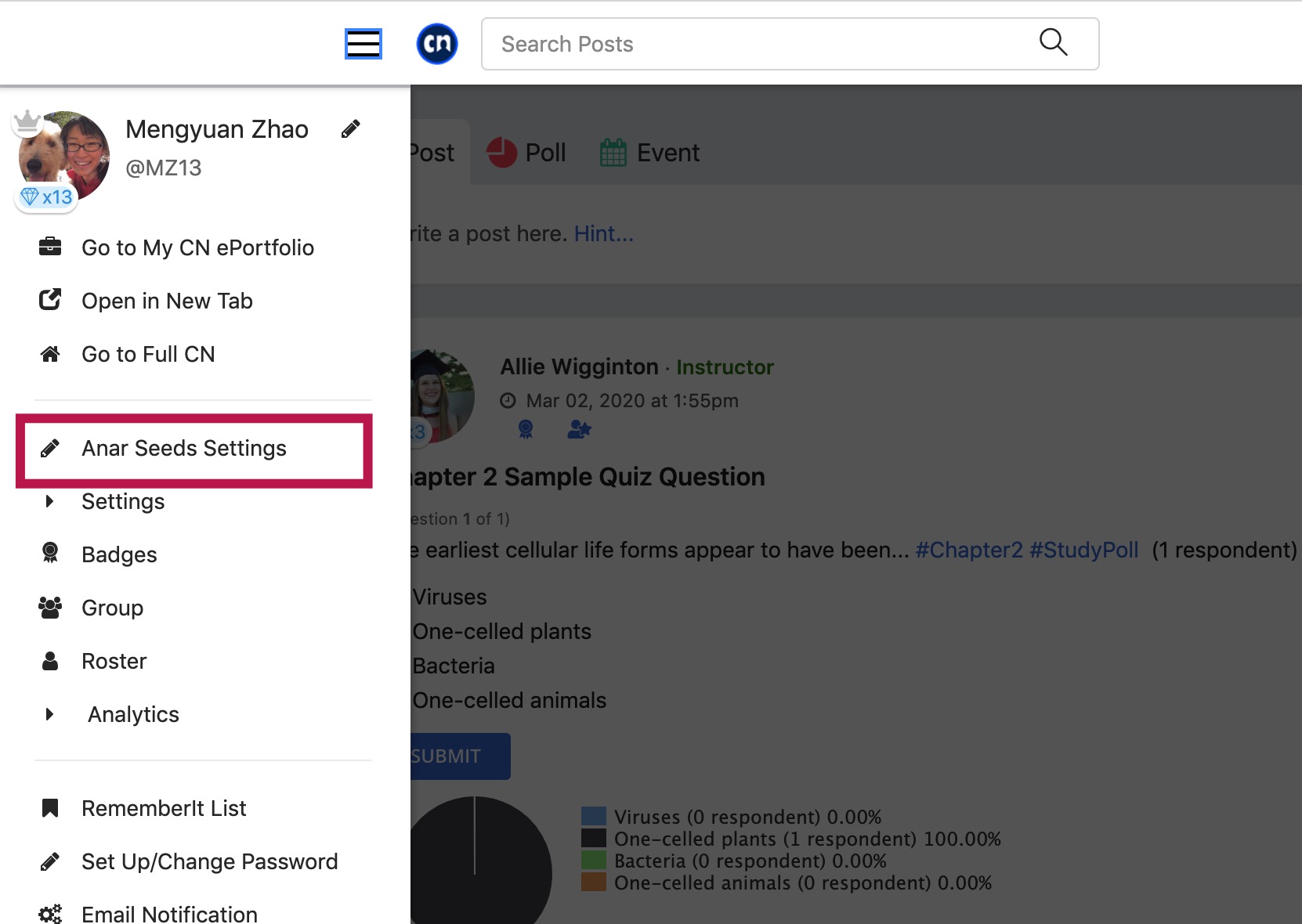 Click the box next to "Set up Anar goal in this course"
Enter an Anar number into the "Anar goal" field
Select a time frame for course members to accumulate Anar seeds. They will not be able to earn any seeds before the start date and after the end date of this time frame
Click the box next to "Use Anar Seeds to Grading". From the dropdown, select Pass "Anar Seeds" to LMS Gradebook (for CN Post)
If you want to modify the course Anar Seeds table, edit the table
Click the SAVE button at the bottom of the page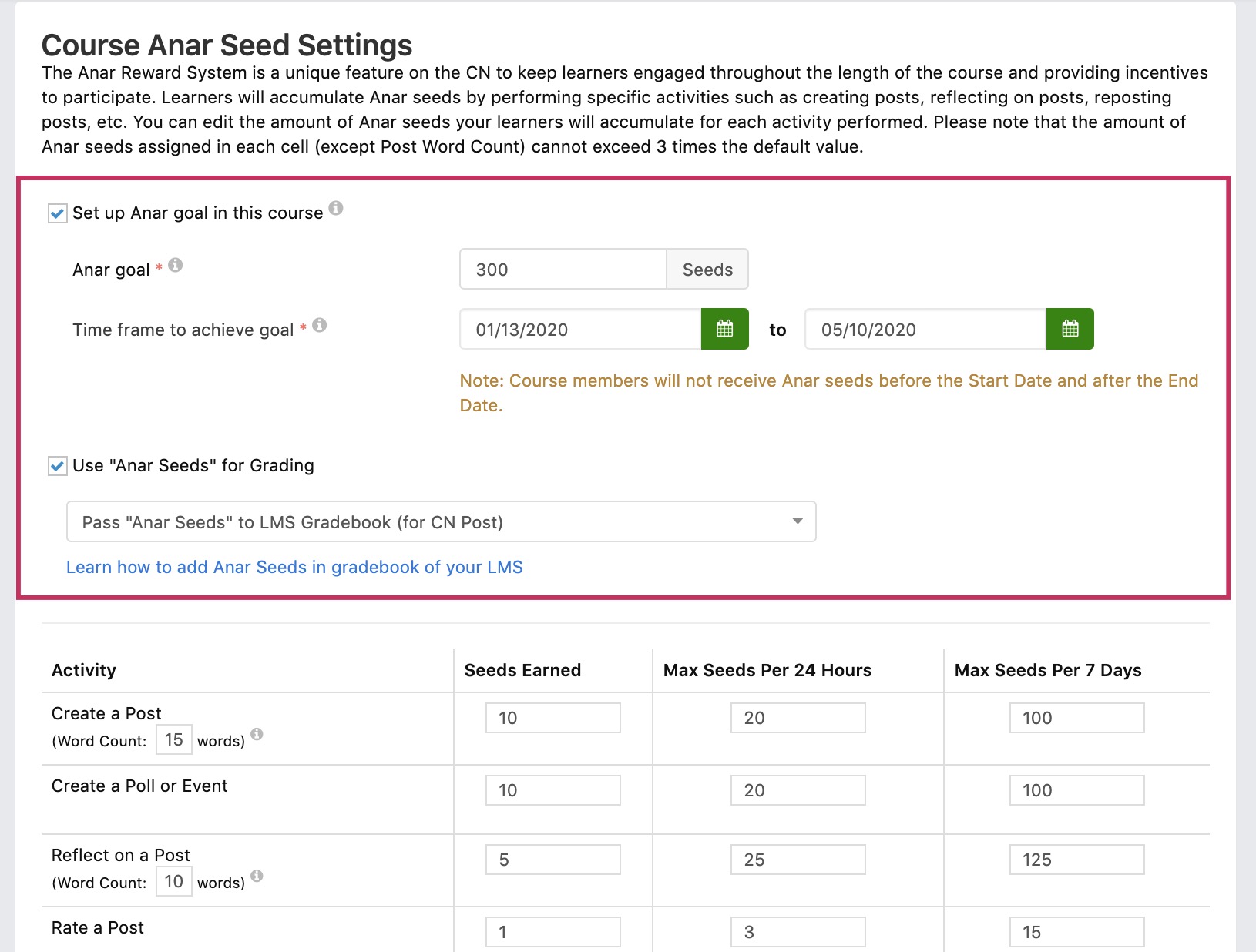 Step 3: Create an assignment for Anar Seeds in Canvas
The CN Team has created an assignment template for you to use. You can search "CN Post Assignments" in Canvas Commons or go to this URL https://lor.instructure.com/resources/99b93b2193f84caeabd78ffa47138686?shared (click this link a second time if the first time doesn't take you to the specific content) to directly import the assignments into your Canvas course. If you choose to use the template, you only need to modify the template content. You can skip the following steps.

---------
If you wish to set up the Canvas Assignment by yourself, please follow the steps below:
Go to the Assignments tab in your Canvas course and create a new assignment.

Enter Assignment Name, for example: Anar Seeds (CN Post)--You must click this item!
We suggest copying and pasting this text to the description field. This will help your students understand the assignment better:

Hello students, you have now activated the Anar Seeds (CN Post) assignment. You will see your grade for this assignment rise as you continue to accumulate Anar Seeds. The grade should update about every 15 minutes. Before you meet the course Anar Seeds goal, you will earn a portion of the assignment grade. Once you have met the course Anar Seeds goal, you will earn the full points. Remember, you can always click on the CourseNetworking (CN Post) tab on the Canvas course menu to participate in CN activities.
Enter in the amount of points your assignment will be worth in the Canvas Grade book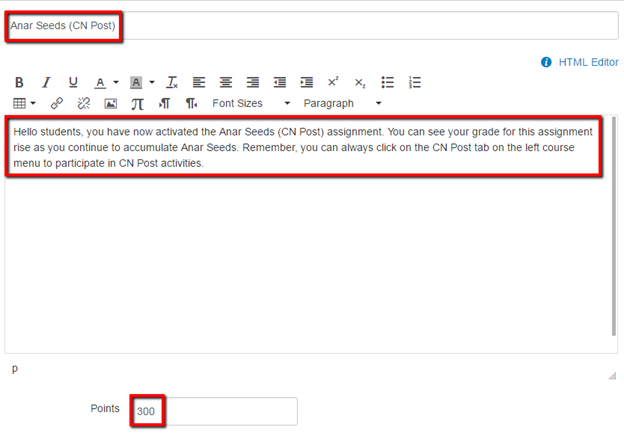 Select "External Tool" from the Submission Type dropdown
Click on "Find" below the drop down menu and select "CN Post" from the external tool name list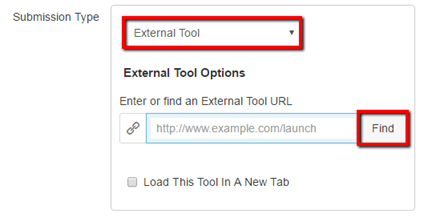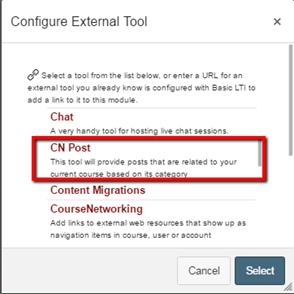 Fill out other fields based on course needs.
Click on "Save" to save this assignment, or if you're ready to publish click on "Save and Publish" (Note: if you choose to click on "save", remember to go back and publish your assignment when you're ready)
Now you should see "Anar Seeds (CN Post)" under both Assignment and Grades
Important Notes:
If you are going to use "Anar Seeds (CN Post)" as a bonus item for extra credits, you need to use weighted groups in Canvas Grade book. Put "Anar Seeds (CN Post)" in a weighted group. For details, please read this Canvas guide: https://community.canvaslms.com/docs/DOC-5612
This grade passback only converts the total course Anar Seeds to point value. If you plan to grade a specific post, you may create a separate Canvas assignment with Submission Type of No Submission and manually enter the grade to Canvas Grade book. Please note that you can only have ONE assignment that has the Submission Type: External Tool-CN Post. If there are more than one of this kind of assignments, the grade passback will encounter errors.
Step 4: Students activate Anar Seeds assignment (IMPORTANT)
Note: Each student must click on the Anar Seeds assignment for the seed point to be sent to the Canvas Grade book. We strongly suggest students doing this early on in the class--but need to be after they have already created a CN account. Don't postpone it to the end of the course. Once the Anar Seeds assignment is activated, the Anar Seeds grade should appear in Canvas Grade book in about 15 minutes (sometimes, it may take a little bit longer). From this point, whenever the Anar Seeds number is updated in CN, the corresponding grade in the Canvas Grade book will automatically update in about 15 minutes.