Institutions can customize the ePortfolio sections on their users' ePortfolios. To do so, institution admin should log in CN Channel and go to the "CN ePortfolio" page and scroll to the bottom to find the section called "Manage ePortfolio Sections".
1. Define Default Order of Sections
You can drag and drop the boxes to change the default order of sections. Please note that if users have already reordered their ePortfolio sections, their ePortfolios won't be affected by any changes you make here.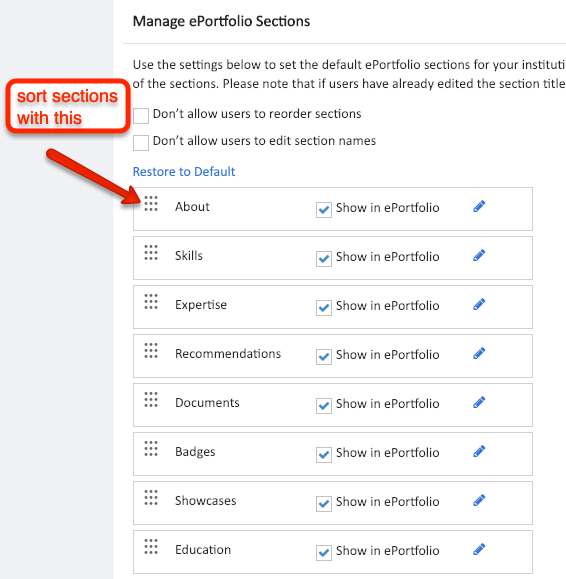 2. Hide or Show Sections in ePortfolio
You can uncheck the "Show in ePortfolio" checkbox to remove the section from all of your users' ePortfolios. By default, all sections are shown in the ePortfolio.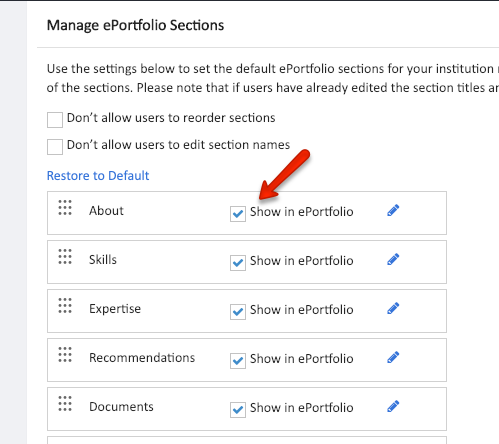 3. Edit Section Names
You can edit a section's name by clicking on the pencil icon of a section. A text box will appear for you to type in the new section name. Once done, you can click the checkmark icon to save. To cancel your changes, you can click on the X icon.
As with reordering sections, if the user has already edited the name of a section, it will not be affected by the changes you make here.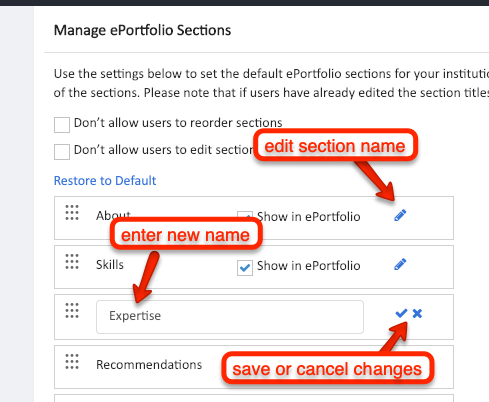 4. Restore to Default
If you ever want to revert back to the CN's default settings, click on the Restore to Default link.


5. Two More Additional Controls
Selecting the "Don't allow users to reorder sections" checkbox will prevent your users from being able to change the order of their ePortfolio sections. 
Select the "Don't allow users to edit section names" checkbox will prevent your users from renaming their ePortfolio sections.