In this article, we will go through the steps to set up Anonymous Posting for a course that might benefit from this feature. Before we get to the steps of how to enable Anonymous Posting and how it works, why should you consider enabling Anonymous Posting?
Communication between peers can open the door to many ideas which sometimes may contain sensitive information. This setting can help achieve the goal of allowing for sensitive or controversial discussions in which learners may have differing points of view and to keep those discussions impactful for learning and informative. In other cases, learners may be shy to ask a question in front of the entire class. It's important to note that with the Anonymous Posting feature, course instructors are able to see learners' anonymous posts in order to prevent this feature from being misused. This feature is not required and is simply an extra option to add to your course discussions.
Enable Anonymous Posting for a Course
This setting can be enabled from the "Post Settings" option. The course instructor can assess the page by clicking the course menu icon in the upper-left corner (see 1), then go to Settings>>Post Settings.

Once you arrive at the "Post Settings" page, you will see two options, the top option is for the default post visibility setting and the second option is for anonymous posting.
There are a few important logic about Anonymous Posting to note. Please review them carefully:
If a course member decides to make their post anonymous, their profile image and name will be hidden from students in this course
Instructors will still view anonymous posts as regular posts
If the "Allow Anonymous Posting" box is checked already and the instructor wishes to uncheck the box,

all previous anonymous posts will then become visible to other students.
On the course roster, instructors and students will see the same number of total posts from a specific course member, but students cannot see the anonymous posts created by this user after the posts are filtered.
Once you have decided to turn on Anonymous Posting for your course, check the box (see 3), and Save the settings (see 4).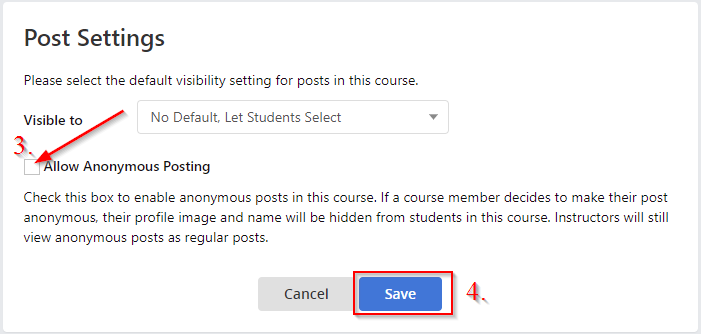 Create Anonymous Post
When Anonymous Posting is enabled in a course, whenever a course member goes to create a post, they will see this new option (see 5):
If a user (including instructors) decides to create an anonymous post, check the box Post as Anonymous (see 6). Note: Anonymous Posts can only be posted within the course that allows them, not to the global class or to other courses (see 7). Once ready to create the post, click Submit Post (see 8).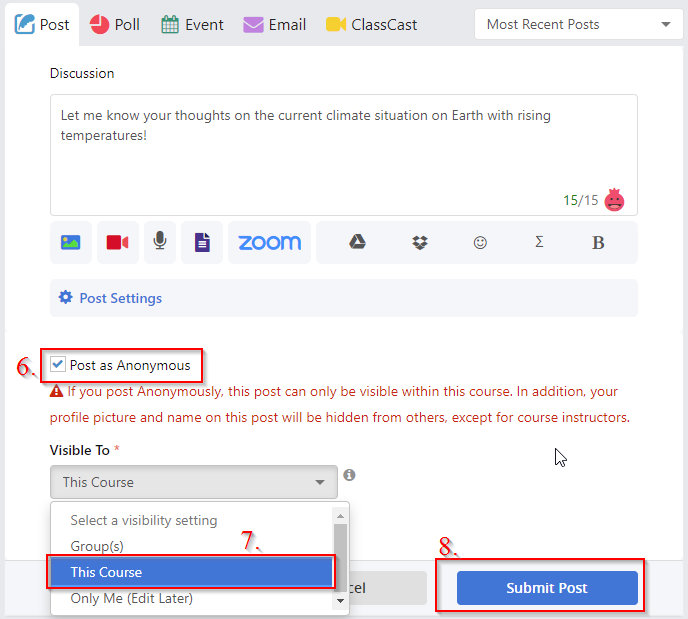 What an Anonymous Post Looks Like
The anonymous post will appear differently for students and course instructors.
Students will view Anonymous Posts with the post coming from an "Anonymous" user and their profile picture will be the default image. See below:

Course instructors will see the post with the original post creator's name and profile image with the "Anonymous Post" label indicating it is posted anonymously. See below: