Note: after the September 2018 release, CN GradeBook no longer has the Release Grades option. It is replaced by Mute Item. 
By default, when grades are entered, they are automatically released to students. Instructors can mute items they do not want to release grades to students. If a GradeBook item is muted, students will not see the grade or be notified of any changes to the grade. A GradeBook item can be muted and unmuted anytime. We do suggest muting item before grading if instructors do not plan to show its grade to students until later. 
Mute a GradeBook Item
To mute a GradeBook item, click on the gear icon on an individual GradeBook assignment/item. Then select "Mute Item" from the drop-down list.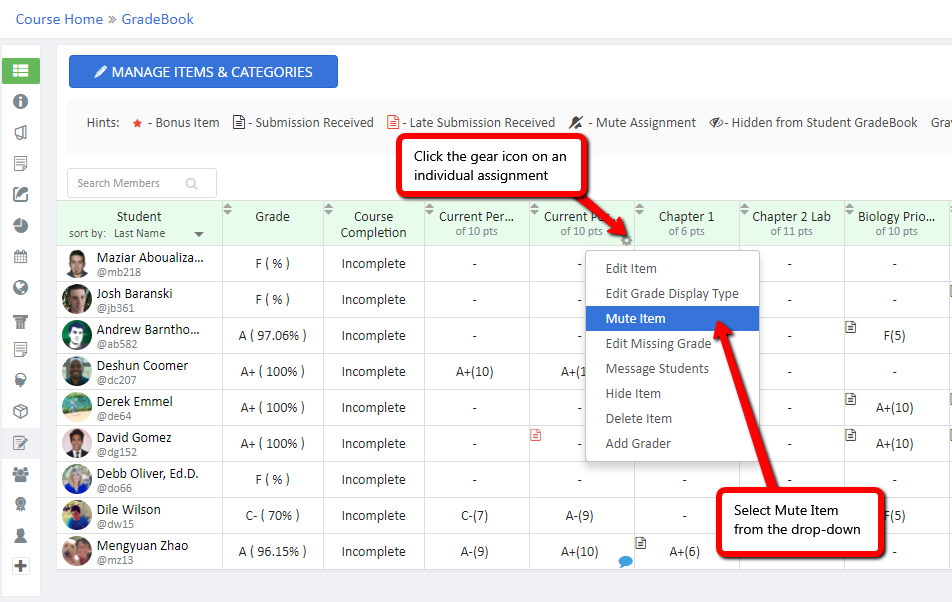 A pop-up window will appear with details on what muting an assignment does. If you want to continue muting the GradeBook assignment, click "MUTE," if not, click "CANCEL." Note: You can unmute at any time.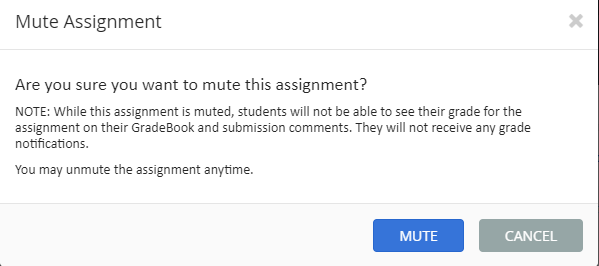 Once the item is muted, the icon below will appear on the assignment to let you know it is muted. 
Unmute GradeBook Item
To unmute a Gradebook item, follow the same procedure as above. First, click on the gear icon of the assignment you want to unmute. It must be currently muted to unmute. Then, select "Unmute Item" from the drop-down menu. The mute symbol will be removed when the item is unmuted.