Anar is the Persian (Iranian) name for pomegranate, regarded as a symbol of prosperity and ambition. It is used as a motivation engine on CN to track participation and encourage positive competition.
You earn Anar Seeds while building your CN ePortfolio (see the details below). Please remember that seeds earned from ePortfolio activities are counted towards your Total Anar Seeds (not in any specific course).
| | |
| --- | --- |
| ePortfolio Activites | Seeds Earned |
| Add profile image | 25 |
| Add Personalized cover image | 25 |
| Add an institution logo to Visual Resume | 10 |
| Add a document | 20 |
| Give others a Recommendation or Compliment | 30 |
| Complete Introduction (minimum 50 words) | 30 |
| Add a showcase section | 30 |
| Add an entry of Expertise, Education, Research, Publication or Grant | 10 |
| Add Courses section | 30 |
Add Twitter feed
30
Add Linked feed
30
Give an endorsement to others
2
Log in CN
(Each login must be an hour apart)
1

A few things to note:
1. All new CN members automatically receive 100 bonus Seeds at the time of account creation. These 100 seeds are counted toward your Total Anar Seeds (not in any specific course).
2. After completing the required fields on your ePortfolio (marked on the screenshot below), you will earn another 100 bonus seeds. --Note: the guide to earn 100 seeds is temporarily unavailable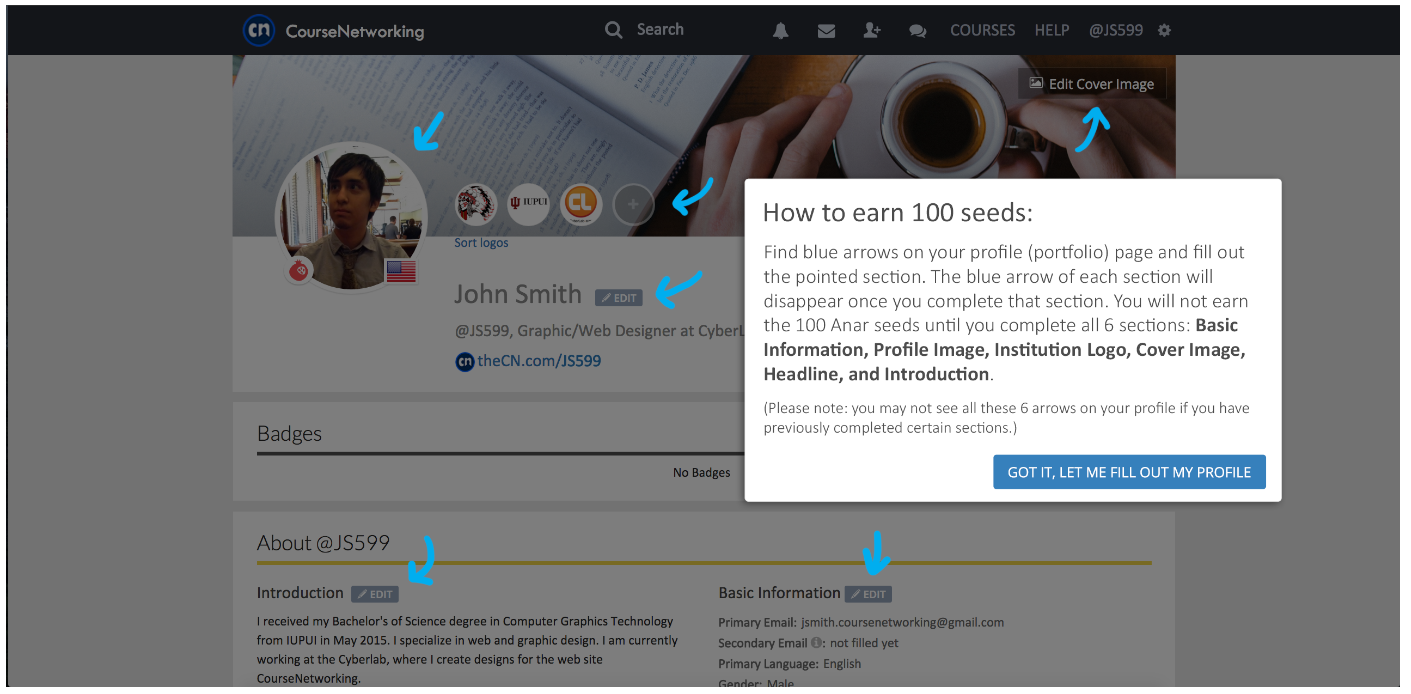 3. How to know the total number of seeds you have accumulated? It is the number shown on the top right of your ePortfolio. See screenshot below. In the bottom left corner of your profile image, you can also find your CN Elite Status. The more seeds you have earned, the higher your Elite Status is:
Silver: 500+ seeds
Gold: 1000+ seeds
Diamond: 2500+ seeds
X Diamonds: X*2500+seeds

To know how to earn seeds from a course and other places, please read A Few Things about Anar Seeds Every CN Member Should Know
Please contact help@thecn.com if you have any questions regarding your Anar Seeds.